Meet The New Owners
Ms. Ashley & Ms. Annie
We are so excited to be taking over ownership of the Superstars! As long-time staff members, we have witnessed this studio grow, evolve, and establish itself as a staple in the community. We are so grateful to Jay, Jamie, and Dawn for entrusting us with their legacy and this labor of love. Through their generous guidance and the support of our studio families, we know that this new adventure will be a success. As new owners, we look forward to upholding this studio's core values, and continuing the traditions of accomplishment and excellence the Superstars are known for!
Meet New Owner, Ashley...
Ms. Ashley began dancing around age five and continued studio dance all the way through high school. She was a member of her high school dance team, and was a long-time member of her studio's competition dance program. She began teaching at Superstars as a Junior at Simpson College, and has been on staff for over 10 years. During her time with the Superstars, Ms. Ashley has taught all ages and all genres of dance, ranging from tap and jazz to ballet and hip hop. Currently, Ms. Ashley heads up the studio's Competition Hip Hop program, as well as teaching a number of other classes at the studio. As a new owner, Ms. Ashley looks forward to continuing this studio's presence in the community and sharing her love of dance with students for years to come.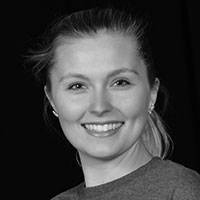 Meet New Owner, Annie...
Ms. Annie started dancing around age four at The Dance Place under Janice Baker. Under Ms. Baker's training, Annie participated in Iowa Dance Theatre productions of The Nutcracker and Dracula and in dance camps at Iowa State University. In high school, Annie continued her dance training at The Pointe Academy and began training as a classical singer. Annie has taken the stage as a dancer and singer, and has appeared with Des Moines Metro Opera and Cascadia Concert Opera. Annie has taught dance in Iowa, Texas, and Oregon over the years and was thankful to find a new dance home in Superstars in 2013. During her time with the Superstars, Annie has taught ballet, pointe, tap, jazz, and lyrical. As a new owner, Annie is looking forward to coaching competition teams with Ms. Ashley and providing a safe, fun dance home for the community.